Flight Videos of the Freewing Scorpion in Mojave Desert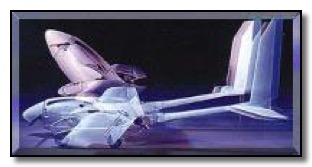 In this video, below, you will see remarkable performance:

• Body tilting up to vector thrust, as in the above photo. Just one jackscrew, compared to hundreds of moving parts in a tilt-rotor.
• Take-off roll less than 3 body-lengths - no more launchers, no more runways.
• Freewings neutralizing turbulence - you can see the free wings bounce away from gusts, and notice the smooth horizon.
• Obstacle clearance approach angles steeper than 45 degrees, harnessing the "barn door" drag of the tilt-body flight mode.
. For context, know that a normal aircraft approach is between 3 and 6 degrees. So the Scorpion approaches like a helicopter.
. (The video shows this not just from the ground point of view, but also from the belly camera, and it is quite amazing.)

Note: This "barn door" drag while in tilt-body mode contributes to the ability to near-hover. But if maintained during descent, this is exactly the same principle harnessed by Burt Rutan's SpaceShipOne and SpaceShipTwo during reentry, and in fact these vehicles would self-destruct upon reentry without the tilt-body effect to prevent the build-up of excessive airspeed. Burt Rutan and Hugh Schmittle share a patent (now expired) on the freewing tilt-body. The tilt-body part of this concept was later adopted by Burt Rutan in his design of his suborbital spacecraft, SpaceShipOne , which won the Ansar X Prize for the first successful private spaceship. In this spacecraft application, the body is tilted up to maximize drag as a unique reentry modality. Burt calls this "feathering", and also uses it in his SpaceShipTwo, designed for Richard Branson's Virgin Galactic commercial space flight company.